Welcome to our beach cottage web site! Learn a little about our enchanting beach cottage, located at 6 Yellowfin Lane (Pvt). We are right on the beach.
Our cottage rental will give you a real beach experience. It's all about relaxing and getting away from stress.
6 YELLOWFIN LANE (Pvt)*
Southern Shores, North Carolina.

On the Atlantic Ocean at the Outer Banks
*off Ocean Blvd
Our house is nestled behind the dune, it does not have a view of the ocean. Our view is from the dunedeck.
skyview of cottage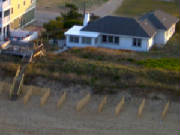 Take a plane ride down the beach
We can accomodate 6-10 people in our cottage on the beach. The layout of the house provides everyone with their own little corner for their own quiet time. Right on the pristine beach of the Outer Banks our cottage has a completely stocked kitchen, 2 zone heat/AC, ceiling fans throughout, two refrigerators,wireless internet access, two cable color televisions, two vcrs, and a dvd player. We are just 40 minutes from the Cape Hatteras Lighthouse to the south and Corolla Lighthouse to the north.

Here is a picture of our cozy cottage, one of the last true beach houses left. There are three separate sections to the house. Enjoy a real BEACH experience.

Anderson's Tranquility

***6 YELLOWFIN LANE (Pvt)***
Southern Shores, North Carolina




Oceanfront on the Outer Banks  

Rental agency (rental house #128)
Southern Shores Realty
800-334-1000